Marin Držić Vidra
Dubrovnik's Vidra can be ranked only with Shakespeare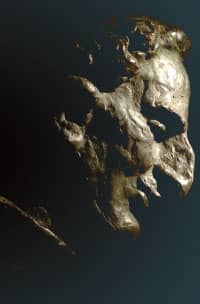 Let us begin with the facts. Marin Držić-Darsa was born in Dubrovnik in 1508 and died in Venice on 2 May 1567. He still rests there in a common grave of the famous St John and Paul's Church, better known as Zanipolo, where almost all rectors of the glorious city-republic were also buried. Držić was, of course, neither a duke of Venice, nor a rector of the magnificent Dubrovnik Republic. He was a "king of men", a sovereign ruler of his comedy world in which, like characters in the permanent theatrum mundi, we can recognize ourselves today - 500 years following Držić's birth - in the same way the contemporaries of his comedies could. Among them the place of honour is reserved for Uncle Maroje, not only within the context of Croatian renaissance literature but also of the entire renaissance comedy production of Držić's time, and before him. His contemporaries - and peers - were Nicolo Machiavelli (1469-1527), Pietro Aretino (1492-1556), Angelo Beloco, called Ruzzante (1496-1542) and a few more. Nevertheless, as each liberal European intellectual should be able to admit today, Držić outshone all of them where comedy is concerned. Nicknamed Vidra, Držić can be ranked only with William Shakespeare, yet, in 1567, when Vidra disappeared in the muddy canals of the Venetian Laguna, Shakespeare was only three years old. Držić's finest comedy Uncle Maroje was written thirteen years before Shakespeare's birth, and Držić's charming pastoral play Tirena fifteen years before the "Swan of Avon" came into this world.
However, Držić's and the Swan's galaxies are connected by many amazing ties. Thus the impossible connection with Tirena and Plakir (Grižula), the comedy written in 1556, will be established by Shakespeare's magical A Midsummer Night's Dream, written in 1595/96. It thus took 40 years until Shakespeare's Puck began to make his Plakir-like mischief and intrigues. In Shakespeare's Macbeth, Timon of Athens, Troilus and Cressida, Hamlet and The Merchant of Venice we shall find many imprints of Držić. Therefore: "If we could place the impossible hypothesis that Shakespeare spoke fluent Croatian, we would be able to write a scholarly doctoral dissertation on Držić's influence on Shakespeare" (Josip Torbarina). Be that as it may, great minds always connect and search for each other through time and centuries. Držić's spirit is thus equally alive today, half a millennium after this virtuoso master of laughter wrote - on 28 August 1566, in Florence - the closing lines of his five unrealisable conspiratorial letters against the Dubrovnik Republic's oligarchic authorities, addressed to His Highness, Francesco I, Prince of Florence and Siena and son of Cosimo I de' Medici, in the hope that he would not have to "fear evil". Another fact is that on 12 June 1541 Marin Držić was appointed Chancellor of the House of Wisdom (Casa della sapienza) and Vice-Chancellor of Siena University, that is the person in charge, to whom the students were responsible for "never doing anything dishonourable and useless for the House".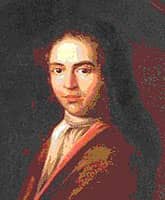 Marino Raugeo, as they called him in Siena, held that post until 1542. After that he returned to his native Dubrovnik enriched with both life and theatre experience, which was reflected in the pastoral plays and comedies he began to write passionately in 1548, creating an entire spectrum of vivid and masterfully conceptualised characters of aristocrats, citizens, plebeians and villagers. Marin DržićAmong them, Pomet - his alter, actually, his ego - has the same meaning as Hamlet does for Shakespeare. In Venice 1551, Frano Barillet published Marin Držić's Poems along with Many Other Fine Things (Pjesni Marina Držića ujedno stavljene s mnozim druzim lijepim stvarmi), the only book published in Držić's lifetime. It comprises Držić's collection of love poetry with 25 poems and three pastoral plays: A Story of the Goddess Venus Falling in Love with Adonis the Fair, A Tale of Stanac and Tirena. As a consequence of specific intellectual tickling, the specific theatre and humour of Marin Držić were forgotten after his death until the early 20th century, when, re-discovered and recognized, Držić began to conquer both his homeland and the world with his unique vis comica. From 1945, when Marko Fotez began to extensively stage his plays in Europe, till today, his Uncle Maroje has been played in more than 20 countries all over the world.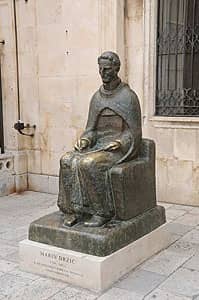 Marin Držić statue in front of Rectors Palace. The works of Marin Držić have been translated into Swedish, English, German, French, Italian, Finish, Hungarian, Dutch, Russian, Polish, Ukrainian, Czech, Slovakian, Slovenian, Macedonian, Bulgarian, Chinese, Esperanto and other languages, and are still being translated. However, it seems that this magnificent master of comedy, who - for his profound insight into human nature - can be compared with Rabelais and Aretin, is insufficiently known and recognised in Europe, to which he belongs more than one can suppose. Those who do not know him - lose out. Those who do know him are aware that we owe him gratitude for the major "secret" revealed to us through his character the Magician, explaining the difference between true and untrue people - the "unworthy ones" who disturb the world. As Držić himself advises, let this realisation be even more valuable than his works. One ought to obey his command: "Set your minds on comedy!" Yet, this does not mean to laugh.
The most popular Držić's comedy Uncle Maroje has often been performed at the Dubrovnik Summer Festival
Source: Welcome to Dubrovnik
Writen by: Luko Paljetak
Published by: Dubrovnik Tourist Board
---
---
Last update: 19.10.2019