Rooms Carpe Diem in Dubrovnik - Reviews
We dedicate special care for each guest.
---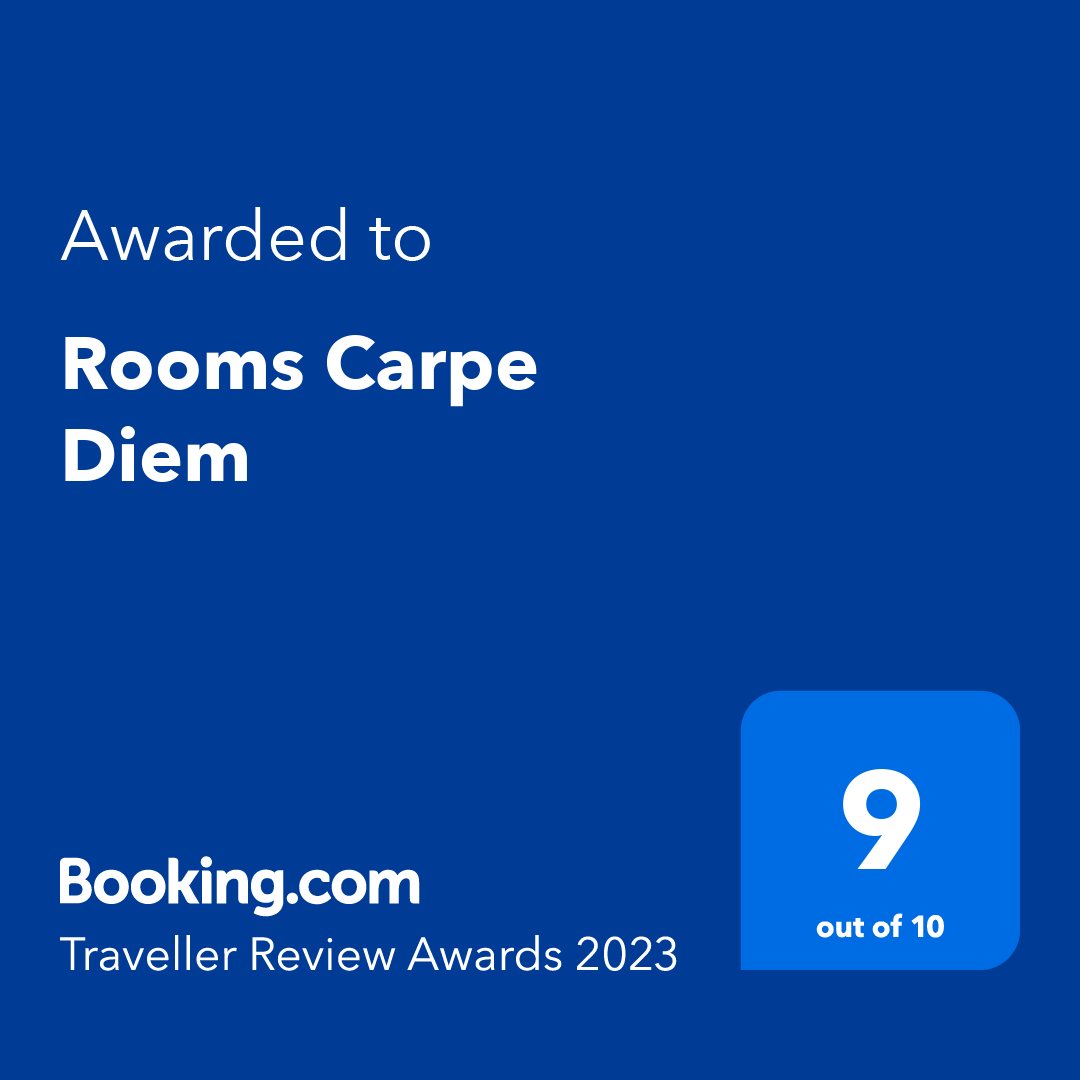 Source:
Brianna Conroy

Andela was one of my favorite Airbnb hosts! She warmly greeted us into her home and made sure we were comfortable our entire stay. Her home is a quick bus ride from the center of Dubrovnik, but the area it's in has plenty of things to do. I highly recommend Andela's home if you want a quiet and relaxing accommodation. She even left us with some beautiful flowers on our way out! :)

Jennifer & Marshall

We thoroughly enjoyed our 4 nights in this room. The room was exactly like the pictures and was immaculately clean, as was the private bathroom across the hall. The balcony was a great spot for us to enjoy our coffee in the morning and a drink in the evening. The balcony is shared with the other room that she rents. We really enjoyed mingling with the two young guys in the other room.

We called Andela when we arrived and her son picked us up within 10 minutes from the bus station. He provided some helpful orientation information about the area on the drive to the flat. Andela greeted and us with delicious homemade lemonade and candies.

We enjoyed the location near Lapad Bay. It was very easy to get to old town; we walked once, about 45 minutes, and took the bus the other times, about 10- 15 minutes.

I would highly recommend this flat to anyone looking for an affordable accommodation near Dubrovnik.

Stephen

The host Andela is a very nice lady, helpful and quick answering questions. The room is in an excellent location in Lapad, 5 minutes walk from the beach. It is very close to a bus stop both for the old town and the bus station.

The rooms are very clean, the bathroom is not shared and is across the hall. There is a access to the kitchen with a kettle, a fridge and cutlery if needed.

A very pleasant and enjoyable stay. I would highly recommend.

Karl and Jasmyn

We had a lovely stay at Andela's apartment. Andela was very welcoming and gave us some refreshing homemade lemonade and sweets when we arrived. The room was perfect for our short stay. We had our own private bathroom straight across the hallway and a nice balcony to relax. The apartment is conveniently located in Lapad close to the beaches, shops and number 6 bus which will take you straight to the old town. Thanks for the lovely stay, we will definitely stay again sometime.

Kerstin

I spent 4 nights in the room in Andela's house together with a friend and we felt totally at home! Andela welcomed us with a self-made lemonade, showed us our room with a big comfortable bed and our own balkony. The room was very clean as well as the bathroom which included a large shower and even a washing machine. Andela was very friendly and helpful, she kept a map of Dubrovnik ready and explained us how to get to the nearest beaches, restaurants and the Old Town. She also answered all our questions and was always there to help if needed. The house is situated on the peninsula Lapad, so it's less touristic there and a lot more quiet as in the Old Town what we really appreciated. Although there is a beach and some tourist restaurants around the corner. You can walk to the Old Town (30-45 min) or take the bus. It's also nice to have a walk around the peninsula and enjoy the little beaches and bays to go swimming. We would highly recommend Andela as a host and her house in Lapad!

Mary

The reviews about Andela were true! She was such a welcoming host: her son was able to pick me up at the train station and upon arrival she gave me some homemade lemonade. She also makes a wonderful limoncello! :)

I had friends staying in a hotel in on the main strip (pedestrian street) in Lapad and this location was PERFECT! I was literally a 5 minute walk to them and 7 to the water. The bus stops are even closer with a cab stand there too. The area is super safe.

Timo

My stay at Andelas place was beyond expectations, The room was, nice, clean and the bed was very comfortable. When I arrived I received a glas of homemade lemonade and candy! Also the location was perfect, right in the middle of Lapad where you have excellent public transport connections to the old town and other places. Can't recommend a better place to stay in Dubrovnik!

Hvala Andela

María Victoria

The house is two minutes walking from the bus stop that takes you to the Old Town and five minutes walking to Lapad beach and a very nice street full of restaurants where you can have dinner by the sea. The room was big, clean and confortable, with our own bathroom. We also had a balcony. Andela was very nice, she welcomed us with a cold lemonade and some sweets. Really a great location to stay if you visit Dubrovnik.

Jefferson

Perfect location in Lapad. Just a few minutes walk to the beaches and to the ferry terminal. Only 1 minute out the door and you are at the bus stop that easily gets you to the old town with no confusion. She offered us delicious lemonade right when we arrived. Her son picked us up from the bus station. He is such a nice guy for doing that - our bus arrived almost two hours late but he was there for us. Great place to stay if you come to Dubrovnik.

Lisa

Andela was a super nice host. Her son picked us up from the port, which was super helpfull, since we had a lot of luggage. The room is nice, clean and has a great balcony to enjoy the breakfast! Highly recommended!

Shannon

This was the PERFECT location. Next to everything, the beach, shops, tourist info, excursion places, the grocery store. Awesome. Andela was so nice and helpful. The WiFi went out and she called someone immediately and welcomed us with fresh lemonade she made. Best host and best place. I would recommend everyone to stay here.

Zach

We had a lovely stay in Andela's home. The location in lapad was great - close to restaurants and a supermarket, whilst also being a little less crowded then the packed old town and surroundings, which was perfect for us. Having the aircon was excellent, however we found the wifi to be inconsistent at times. Overall a great stay with Andela, thanks for having us!